Graduates Won 3 iF Design Talent Awards and 1 Red Dot Design Award
Source: 软件学院英文网
Release time: 2020-10-12
Clicks:

993
Graduates of Industrial Design Engineering won another three iF Design Talent Awards and a Red Dot Design Award, increasing the number of the iF Design Award-winning projects of the School of Software Technology to SEVEN. The Sweet Breath project clinched both the iF Design Talent Award and the Red Dot Design Award.

Anchor Helen
A tool kit designed for blind anchors
Anchor Helen is a tool kit designed for blind anchors, mainly consisting of a braille teleprompter and a recording microphone. The braille teleprompter can convert texts from mobile phones and computers into braille through Bluetooth, displaying texts of speeches for blind anchors, who can switch texts according to their speaking rates. The recording microphone can optimize anchors' acoustic effects, and its key design fits blind people's habits, easy for them to manage recordings. The tool kit comes complete with voice instructions, which help bind people to quickly learn how to use the braille teleprompter and the recording microphone.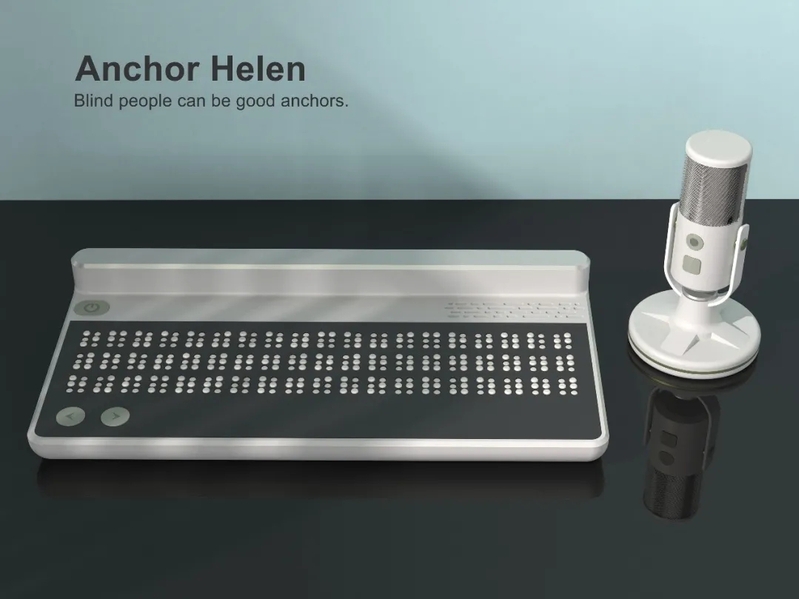 Sweet Breath
A respiratory trainer designed for children with asthma
Sweet Breath is a respiratory trainer designed for children with asthma, aiming to raise children's recovery efficiency through gamified interaction and to mitigate physical and mental discomfort caused by asthma. In terms of its shape, the product looks like children's favourite lollipop. Functionally, the product reduces asthma symptoms by adding resistance and exercising respiratory muscles during breathing. As for its design, the product arouses children's interest through various colours in respiratory training, so as to help them with recovery.
Alcohol Less
Glasses designed for people who cannot drink much
Alcohol Less is a pair of glasses which aim to protect people from excessive drinking and advocate food saving. It comprises the Mountain Glass and the Ocean Glass, with the curve of "peaks" or "waves" at the bottoms of glasses, suggesting that users can choose glasses as per their own tolerance for alcohol. With 30 millilitres less than the Ocean Glass, the Mountain Glass enables people with alcohol intolerance to drink less. On top of that, each glass is printed with a pattern of boat or tree, matching the curve of peaks or waves perfectly. Alcohol Less not only increases the fun of drinking to some extent, but also avoids the awkwardness of alcohol intolerance.