Vice Dean Cai Liang was interviewed by CCTV News Channel
Source: 软件学院英文网
Release time: 2020-07-01
Clicks:

707
On the morning of June 28th, Cai Liang, Executive Deputy Director of Zhejiang University Blockchain Research Center and Vice Dean of School of Software Technology, Zhejiang University was interviewed by China Central Television (CCTV) News channel. In the interview, Prof. Cai analyzed the needs for blockchain talents in China.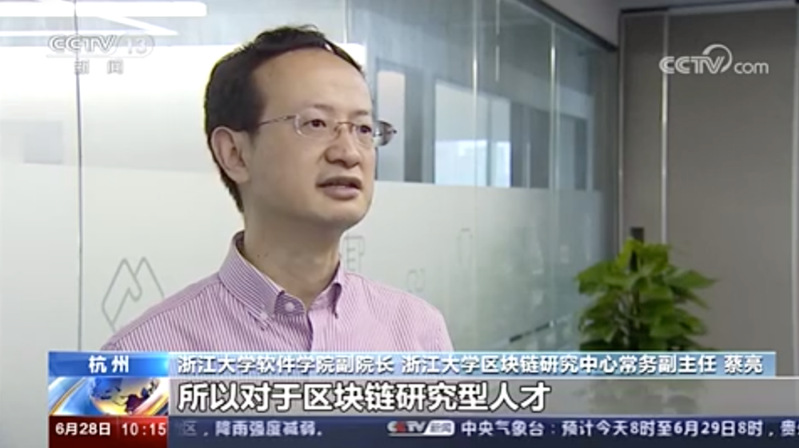 Prof. Cai said in the interview, "There are many more state-level programs this year, such as the On-chain Supervisory System of Domestic Blockchain Application of the Office of the Central Cyberspace Affairs Commission and National Key R&D Plan of the Ministry of Science and Technology of the People's Republic of China. Besides, local governments and central government-owned enterprises have also realized many application scenarios of Blockchain this year, including smart government affairs, digital identity, charity and donation, tracing the sources of products, legal evidence storage and green energy, so the demand for Blockchain researchers, infrastructure developers and interdisciplinary professionals are on the increase. However, the number of existing competent Blockchain talents account for less than 10% of the demand.
Speaking of the suggestions on filling the huge talent gap in Blockchain application, Prof. Cai said, "We have no Blockchain graduates, so we suggest that programs like computer science and software technology carry out job-specific training to meet the demand as soon as possible. We still lack high-level Blockchain talents in the long run, and universities are expediting the deployment of relevant education and training systems as per Blockchain Technology Innovation Action Plan for Colleges and Universities launched this year by the Ministry of Education of the People's Republic of China, so as to fill the gap in high-level Blockchain talents in China.